Hello,
Released Solitaire Words. Give it a try it's free:
Google Store link : https://play.google.com/store/apps/details?id=com.arnasalon.solitairewords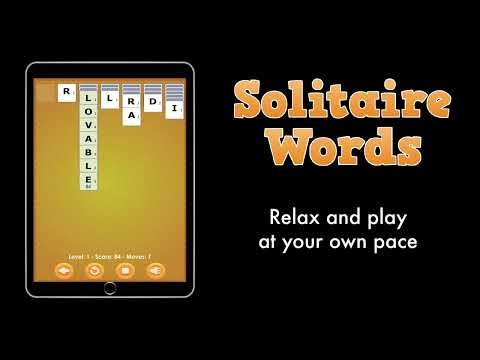 Any feedback welcome.
Have downloaded it, will check it out after work.
Just FYI: the link you posted is directing to the US version of the store page, rather than the country the user is in.
For me it wouldn't let me install until I removed the &hl=en_US&gl=US part, at which point it correctly took me to the UK page. So best to share it as https://play.google.com/store/apps/details?id=com.arnasalon.solitairewords if you want people to be able to download.
Modified the link.
Thank you Alan.
congrats! it looks really good!
very nice! Love it. Is this an original idea of inserting words into a solitaire card game?
On my phone (Realme 7i, Android 11, 1600x720) I have black strip at bottom and I can not find button to confirm change of user name.
What is more I don't know how to sent my score.
I have attached screenshot below.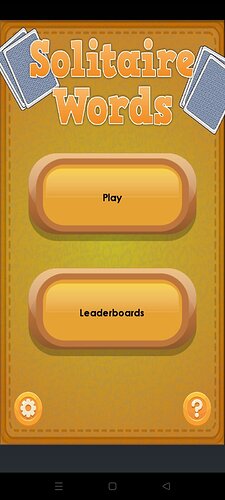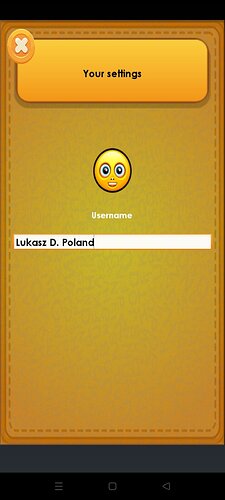 Hello, thank you for the feedback.
You can click on the cross on the upper left of the screen to get to the main menu. This will save your username.
By the way, tap on the avatar icon to change it. You can select another avatar image.
Scores are sent automatically when you solve a puzzle completely (when all cards have been revealed, and they all form a valid word)
I had a chance to play it yesterday: it's a cool take on solitaire (which we have some familiarity with here at Flick Games

).
It's surprisingly hard, which is great for people who want a challenge but you might want to adjust the first level or two so that it's almost impossible to get stuck - otherwise you might put of some players before they've really had a chance to get hooked.
The first two times I tried level 1, I ended up at a point where I had nothing but vowels left. Apparently UUAUE isn't a real word…
We had "bellies" that it highlighted as a finished word. It wasn't of course…
And personally, the onboarding is terrible. For example, level 1 should use 2 or 3 words where it is impossible to fail. The game should almost play itself to explain the concept. Found a "how to play" but users won't bother reading a wall of text. This will have horrible retention unless you fix those issues.
There are UI issues on devices and the giant buttons need toning down a bit.
Sorry, but this is friendly advice… It's and interesting idea just poorly executed.
This is very good advice. Since english is not my native language it is very difficult to finish first level for me.